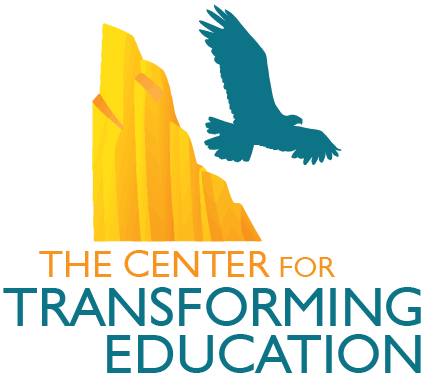 At the heart of
Transforming Education
is a commitment to create schools that are healthy, dynamic places where every member learns, leads, and makes a difference.
AN INTRODUCTION TO THE MODEL
After years supporting school improvement efforts, the Santa Fe Center's leadership team grew increasingly frustrated with traditional approaches to school reform. Tinkering with the status quo no longer seemed a viable choice. In schools wedded to outmoded mechanical views, the resulting isolation, hierarchies, focus on roles rather than relationships, and compliance and inspection rather than capacity building prevented real change. Everything around us was changing…our mental models of education needed to change, too. The 21st Century was ready for new concepts of learning, teaching, and schooling. We wanted to empower communities to create the schools they longed for; we were not interested in prescribing the perfect school or the best way to create it.
The Model for Human-Centered School Transformation emerged as we organized our experiences, reading, and research into a more holistic vision of school change. We explored literature on human and organizational development, transformational change, constructivist learning theory, systems thinking, and human-centered design…all suggesting new approaches to teaching, learning, and organizing schooling.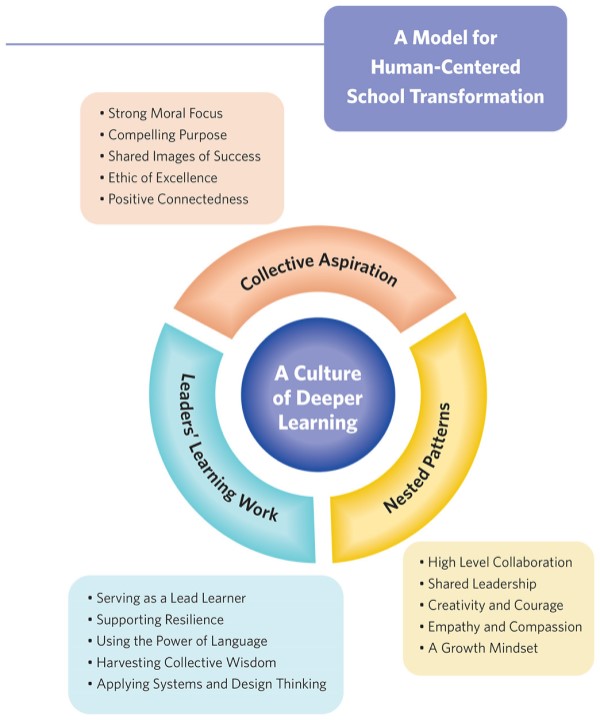 To create a culture of deeper learning, we identified three broad areas of transformative work: building collective aspiration, embedding nested cultural patterns that help schools become more adaptive and open to change, and the learning work of leaders that encourages risk-taking and a growth mindset in all of the school community. In each of those areas we developed five dimensions that support leaders in transforming the capacities of individuals, schools, and districts. Our accompanying monographs describe specific ways to tackle the complex work of change.
This model acknowledges schools as unique human enterprises. No predetermined linear program or process can support their transformation. Instead, we begin wherever we find ourselves, drawing upon the model to help us explore our individual settings, our strengths, our problems, and the possibilities we see for the schools we are creating. Our mission is to cultivate in our schools the best of what is human: our creativity, courage, connectedness, and innate desire to learn and grow.
WHAT IS "DEEPER LEARNING?"
Deeper learning is a relatively new term that challenges traditional classroom practice by involving students in highly engaging problems, projects, experiments, writing tasks, etc. that require students to apply what they are learning.
Deeper learning
is grounded in authentic, real world work, often involving students in studying aspects of their own communities.
challenges the traditional teacher roles of "guide on the side"" and "sage on the " Instead teachers are seen as activators of learning, working side by side with students, comfortable doing direct teaching, skilled in asking questions and prompting disequilibrium, willing to give students time and space to figure some things out for themselves.
develops students' broader skills in collaborating, creating, problem finding and solving, communicating complex ideas, leading, and using technology to accomplish what they had never been able to do before.
builds academic mindsets.
assesses students' learning by analyzing students' work, their performances, and students' own self-assessments.
gives students more voice and choice in their learning, while keeping the curriculum focused on high standards, rich curriculum content, and rigorous specifications.
USING THE POWER OF LANGUAGE
The Language of Vision
Framing
Metaphor
Story
The Language of Exploration
Scenario-building
Appreciative Inquiry
The Language of Self-Knowing
Personal
Narrative
Reflection
The Language of Capacity Building
Coaching
Supervisory Conversations
Negotiating Conflict